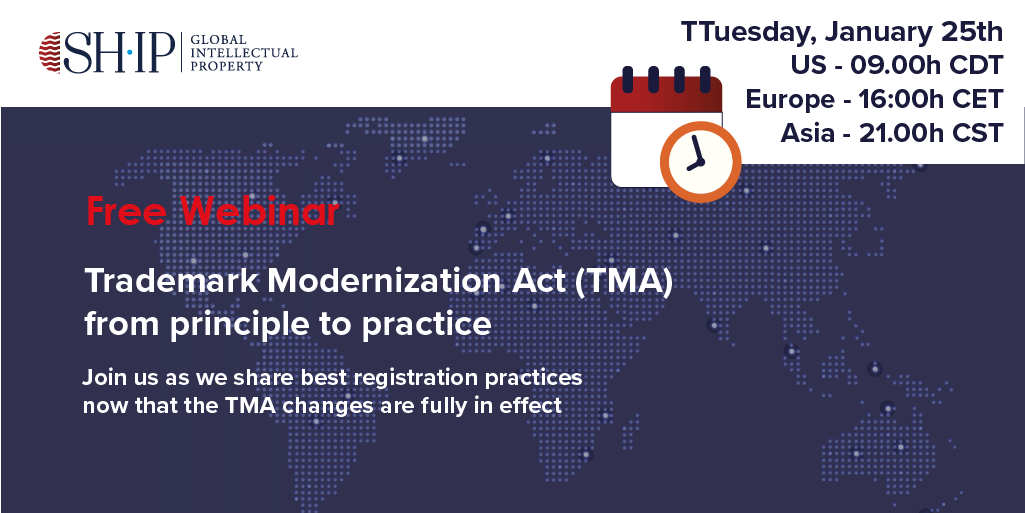 Webinar - Trademark Modernization Act (TMA) from principle to practice
Join SHIP Global IP for a webinar to learn more about the recently implemented law regarding trademark prosecution in the USA.
Topics will include:
DOs and DON'Ts for filing practices
Minimizing USPTO audit risk
Novelties introduced in the Trademark Modernization Act (TMA) that give applicants more flexibility
Former USPTO Trademark examiner, guest speaker Jason Blair, will lead conversation bringing the world up to speed on the new changes. He's currently a Principal Attorney at Munck Wilson Mandala, and a renowned professional in the IP prosecution field. Jason was involved in the process of changing the regulations within the USPTO and owns deep experience in implementing agency policy standards and procedures for trademarks
Moderated by Mitch Atherton, Global Strategy Director at SHIP Global IP, the webinar is hosted by SHIP Global IP, an Intellectual Property portfolio management company with the goal of bridging the gap between Inside Counsel and the services they procure. We help inside and outside counsels to centralize and consolidate their activity and budgets in relation to patent and trademark life cycles.
We hope you can join us. Please bring your questions, our experts will address them all in our Q&A session, right after the webinar.

Save your seat now