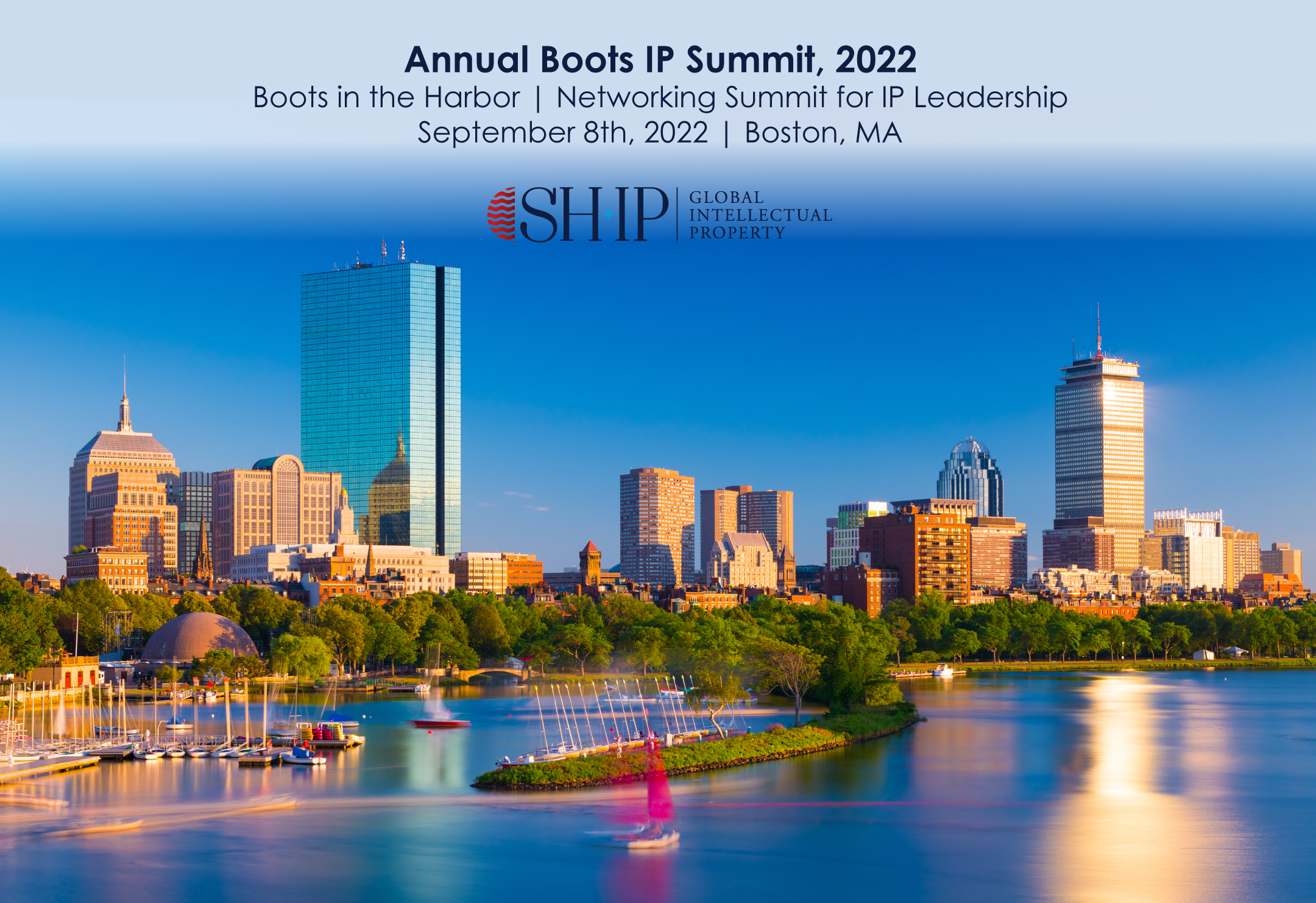 SHIP Global IP announces 2022 Annual Boots IP Summit
We are very pleased to announce that the Annual Boots IP Summit will be held in Boston, Massachusetts on September 8th, 2022. Boots in the Harbor is the Annual Boots IP Summit organized by SHIP Global IP.

Our Annual Boots IP Summit brings together a nurtured group of industry professionals and top industry leaders, willing to train, learn, share and network with IP peers.


Boots in the Harbor is a marquee event in IP collaboration, trends and strategy, as indicated by the speakers presenting as well as the attendees.


Finalized speakers and panels will be revealed as we approach the event.


Comments from last year's attendees:


"Great Job on the conference!
Yall knocked it out of the house park! It would only get better! "
"Best event I've ever been to. Hands down.
What struck me was that I really built relationships in a laid back way over the course of the afternoon. Definitely keep the quality of this event up and I (and new friends) will come. See you guys soon! "
"Going out to range with you guys was great and would have been worth any fine. The presentations were great! Thanks again for putting this together and hope to see you at future events. "
"I really enjoyed the summit. Excellent speakers discussing on-point topics. "
"Having professionals in the trade, both in law firms and in-house, to share their perspectives on IP, legal matters and trends was really helpful to me. You did a great job. "
"I have enjoyed the great speakers, substance and networking, as well as the professional SHIP team. "
"The topic and presenters were excellent, the location was great and I appreciated all the prep that went into putting on the event. "
Come share your time with us to engage in open discourse, expert opinions, protocol rationale, and (most importantly) get to know your fellow in house associates.

This event is attended by In House Counsel only and has a strict no sell policy. For more info on the conference, please send an email to rsvp@shipglobalip.com.
Stay tuned, more info coming soon!