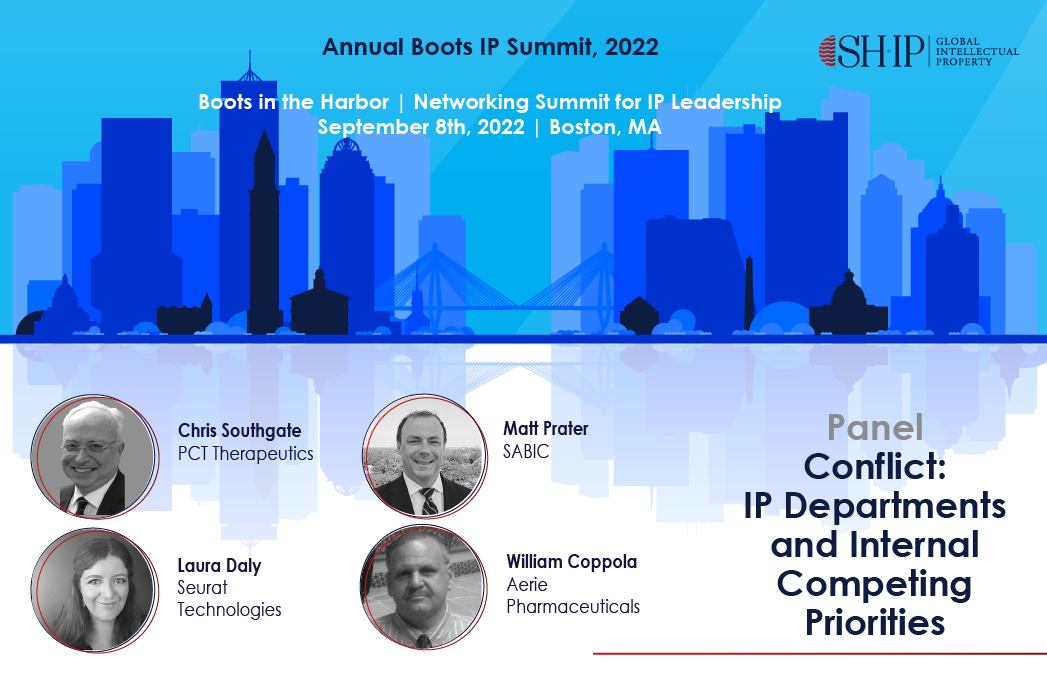 Panel announced for the "Conflict: IP Departments and Internal Competing Priorities" discussion at the Boots in the Harbor IP Summit!
We are thrilled to announce the three panelists who will form the panel for the first discussion organized within the Boots in the Harbor IP Summit, to be held in Boston, MA, on September 8th.

The IP Leadership panel discussion, entitled "Conflict: IP Departments and Internal Competing Priorities," will be enriched by the vast experience of Chris Southgate, Director, Patent Counsel at PTC Therapeutics, Laura Daly, IP Manager at Seurat Technologies, Matt Prater, Senior Counsel, IP at SABIC and Bill Coppola, Vice President, IP at Aerie Pharmaceuticals.


Given the expertise of the panelists, this is certain to be an active and engaging panel discussion!


Panelists:


Christopher Southgate | Director, Patent Counsel at PTC Therapeutics
Dr. Southgate is Director, Patent Counsel at PTC Therapeutics where he is responsible for the IP development of early-stage gene therapy projects. Drawing on an accomplished record both in postgraduate academic research and as inhouse counsel, Dr. Southgate advises PTC scientists and Business Development on the identification of potential IP with the requisite freedom-to-operate for commercial development as well as the preparation and prosecution of foundational patent applications.
Dr. Southgate obtained his Ph.D. in molecular biology at the University of Zürich, Switzerland and a JD from the Washington College of Law, American University in DC.


Laura Daly | Intellectual Property Manager at Seurat Technologies, Inc
Laura Daly graduated from the University of St. Andrews with a Masters degree in Astrophysics, and the University of Glasgow with a PhD in Physics.
After a brief career as a research scientist she trained as a patent attorney with a major London law firm. After passing the EQE (widely regarded as one of the world's toughest professional exams) she qualified as UK and European patent attorney and subsequently joined the in-house team at Arm Ltd., the leading British processor design company. In 2016 she relocated to Austin, Texas to become the first member of Arm's US patent prosecution team, qualifying as a US patent agent. She later joined a leading global IP firm drafting and prosecuting patent applications in the US and Europe. In late 2021 she joined additive manufacturing start-up Seurat Technologies as their first IP manager, relocating to the greater Boston area.


Matt Prater | Senior Counsel, Intellectual Property at SABIC
Matt is senior counsel, IP for SABIC - a Saudi company that manufactures chemicals, polymers, fertilizers and metals. SABIC ranks as the fourth-largest chemical producer on the Fortune Global 500 and is 70% owned by Saudi Aramco. Matt is based in Houston, Texas at SABIC's regional headquarters.
Matt is a specialist in application technology and supports several teams, including SABIC's Solutions for Automotive team, which offers industry-leading expertise in designing customer solutions made from engineered materials such as thermoplastics. His work is focused on drafting and negotiating contracts and patents, but extends to other realms as required. Trained as a mechanical engineer at Michigan Technological University and as a lawyer at Mitchell Hamline School of Law, Matt has been in the legal practice for 19 years. He began his legal career at Schwegman, Lundberg and Woessner, where he had the privilege of representing clients like Ferrari and Tesla, and where he drafted the notorious MyPillow® patent. Matt currently serves on the board of the Houston Intellectual Property Association. Matt is admitted to practice in Minnesota, Texas, and before the US Patent and Trademark Office.


William Coppola | Vice President, Intellectual Property at Aerie Pharmaceuticals
Bill joined Aerie Pharmaceuticals as Intellectual Property Counsel on 18 June 2018 and was subsequently promoted to Vice President, Intellectual Property. and oversees all domestic and international intellectual property matters for Aerie. Bill has over 25 years of experience representing clients regarding a wide spectrum of patent and intellectual property matters, including securing and defending world-wide patent and trademark protection, performance of due diligence with respect to new technologies, licensing and negotiation of agreements, performing freedom-to-operate analyses, and patent litigation regarding Hatch-Waxman, devices and biologics.
Bill received his J.D. from Seton Hall University Law School, his Masters degree in Biochemistry from the University of South Florida, and his Bachelors in Chemistry from the University of Delaware.


Boots in the Harbor IP Summit organized by SHIP Global IP and will be held in Boston, MA on September 8th, 2022. Boots in the Harbor is a marquee event in IP collaboration, trends and strategy, as indicated by the speakers presenting as well as the attendees. This event is attended by In House Counsel only and has a strict no sell policy. For more info on the conference, please send an email to rsvp@shipglobalip.com.