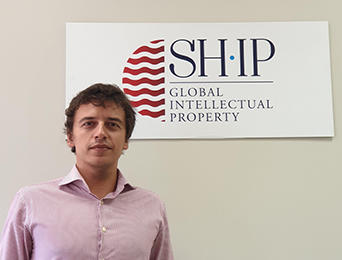 New crew member on board
We have the pleasure to introduce you to a new member of our team. Holding a law degree from the Portuguese Catholic University, having specialized in Corporate and Business Law and a vast experience with patent and trademark management in different law firms, André Sarmento bolsters SHIP Global IP's sales team in Europe.
André has kindly agreed to let you know him better, so we got into our journalist shoes right away.
What motivates you to work hard? I like having a close relationship with clients so my drive is to feel that I am adding great value to their business.
What is your favourite thing about your career? One thing I really like about my professional path so far is that I have dealt with colleagues and clients from completely different backgrounds and countries.
What is your proudest accomplishment? Professionally I take great pride in having brought and nurtured new clients to develop their IP and especially in convincing them of the importance this area might have for them. On a personal level I am glad I started learning German.
What is your favourite book to read? I have always liked reading so it is not easy to choose just one book. However, I would pick the "Brave New Word".
If you could choose to do anything for a day, what would it be? I would spend the day in a boat with some friends.
If you could only eat one meal for the rest of your life, what would it be? A Portuguese typical dish: carne de porco à alentejana (pork with clams).
If you could share a meal with any 4 individuals, living or dead, who would they be? Gabriel García Márquez, Roger Waters, Buddha and Plato.
What three items would you take with you on a deserted island? A fishing net, a satellite phone and a hammock.
What was your first job? I started working in 2012 as a Trainee Tax Consultant.
What do you do to keep fit? I used to do high-intensity interval training classes until the Covid-19 quarantine started. Since then I work out at home. I will be back to the gym on September.
Bem-vindo, André! Glad to have you on board!