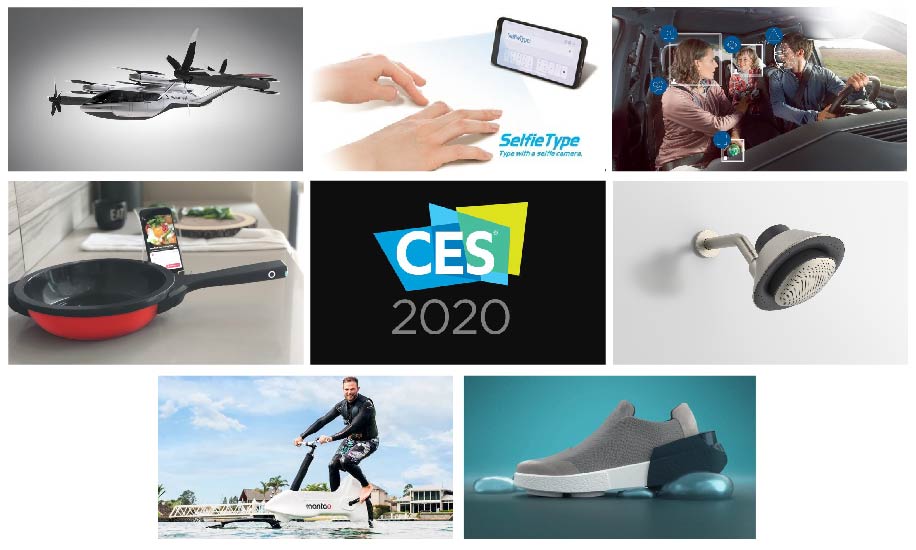 CES 2020, a showcase for technological innovation
Last Tuesday, CES® 2020, the world's biggest technology fair opened its doors to present the next generation of innovation destined to change the world in the coming years: redefining industries, creating jobs and meeting many of society's challenges.
The latest transformative technologies include artificial intelligence, 5G, foldable devices, vehicle and surveillance technology.
From among the hundreds of innovations presented in Las Vegas, we have selected seven that particularly caught our attention, and which we believe will inspire, connect and change our lives for the better:
Flying taxis
Setting their sights set on sustainable mobility, Hyundai and Uber presented the 'S-A1': a prototype electric flying taxi for four passengers. This new transport vehicle has been designed to reach a speed of 290 km/hour and fly at an altitude of between 300-600 m. We can't wait to try it!
Invisible keyboards
Currently at the development stage, Samsung is working on what it calls the SelfieType. This device "maps" our fingers detecting the movement as if they were writing on a keyboard by means of artificial intelligence combined with image recognition technology. Fascinating! We'll be keeping our eye on developments in this project.


No more distractions at the wheel
Bosch has designed an internal monitoring system for cars that uses cameras and artificial intelligence capable of detecting driver distraction and raising the alarm. The camera of this interesting security system, set to go into production in 2022, is built into the steering wheel and captures information about the driver such as the head position, blinking frequency or where the driver's gaze is fixed, thus triggering recommendations for breaks, reduction of speed and even alarm messages. Any innovation enhancing road safety deserves our recognition.
Smart home
The smart home has been without question a central feature at the fair. Many brands have presented incredible innovations in Las Vegas aimed at making our home lives much easier and more efficient. These range from systems capable of detecting room capacity and adjusting the temperature to voice controlled stoves. Nonetheless, the following two items particularly caught our eye:
Smartypans' new pan that measures the weight and temperature of the ingredients. Representing a valuable aid to healthier cooking, this new innovative product is able to both create and save the recipe you are cooking by means of sensors and artificial intelligence. Grandma's secret recipes have finally met their match!
The bathroom specialist Kohler has launched Moxie, a shower tray speaker and microphone that allows you to give instructions while showering.
Pedaling on the seas
Hydrofoil is a locomotion industry first. Made by Manta5, it is an ebike to get about on the water. Floatability is achieved by its aeronautically inspired design that incorporates carbon fiber "wings" that act like those of an airplane. Rider pedaling drives the electric motor which in turn operates the propeller that thrusts the vehicle forward. It can reach a speed of up to 20 km/h.
Exploring coasts or training in rivers and lakes has never been so easy, safe and such fun.
All rounder shoes
Wahu presented shoe soles that adapt to the terrain on which they are worn, thus ensuring a better grip or better cushioning, as required in each case.
This sole has the ability to extend or retract a set of shock absorbing pads. These pads are controlled by micro compressors that pressurize the sole compartments to release pressure as needed. The built-in battery has a life of 24 hours. Moreover the app gives you access to your tread's characteristics.
We are looking forward to seeing which brand will be the first to incorporate this technology.


Innovation at CES never fails to surprise!