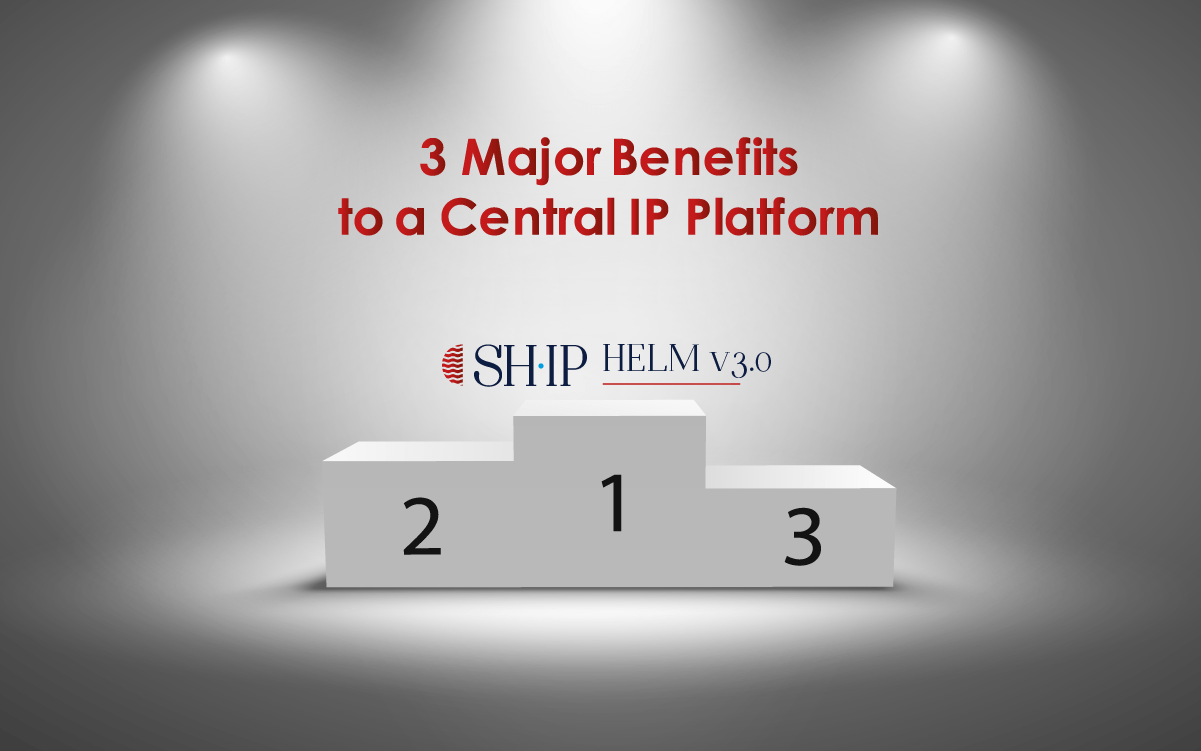 3 Major Benefits to a Central IP Platform
Intellectual property is the backbone of any product-based company in the world. Its importance is made obvious when looking at the budgetary resources allocated to an organization through their R&D departments, legal departments, portfolio maintenance, outside legal counsel, etc.


Parts of the IP process are extremely complex, but there are many parts that are moreso laborious and involve heavy coordination rather than a complex puzzle. An organizations optimal efficiency of these burdensome tasks are an easy indicator to see how organized that individual group is.


At SHIP Global IP, we simplify that organization through a central platform called HELM©. Our client base finds 3 major benefits to utilizing this platform:
Single portal for Patents and Trademarks
Offloading internal tasks
Real time analysis
Single portal for Patents and Trademarks
With the launch of Version 3.0 of HELM©, the long term vision of incorporating Trademarks into the platform has become a reality. Our client base can now file a trademark in many jurisdictions, and then simply click a different button to switch to patent filing.


All filings are logged into the platform, and legal departments have the ability to see which works in are in progress, which have been quoted just for exploratory purposes, and which have been completed. Never before has it been so seamless to work inside a single area for both Patents and Trademarks.


Offloading Internal Tasks
Nobody has ever met a paralegal that doesn't have enough to do. Additional tasks are consistently being put on the desks of paralegals, and they have to be innovative enough to find a way to be more efficient in finding ways to complete tasks on time.


Utilizing HELM© not only reduces the amount of tasks necessary to complete a foreign filing of any kind, but SHIP's fully staffed formalities department contains Foreign Filing paralegals that are experts in their field- and willing to help! They take on a number of actions involved in the overall process that will aid any organization in reducing workload.


Real Time Analysis
Unfortunately, a lengthy timeline is not always possible when it comes to making filing decisions. A business unit may want to move forward with a filing at the last minute, and need to know how much it costs in order to select which jurisdictions to file in.


This central platform allows for the population of the quotes that show each cost in each jurisdiction- a firm price that you will actually pay to complete the file; not just a cost estimate!


This real time production allows for more informed decisions to be made with a quicker turnaround time, ultimately strengthening the ability of the organization to adhere to the set aside strategy.
If your organization is in need of assistance due to workload or knowledge gap, SHIP Global IP is here to help. Simply reach out to us through the contact form located right here on the website!