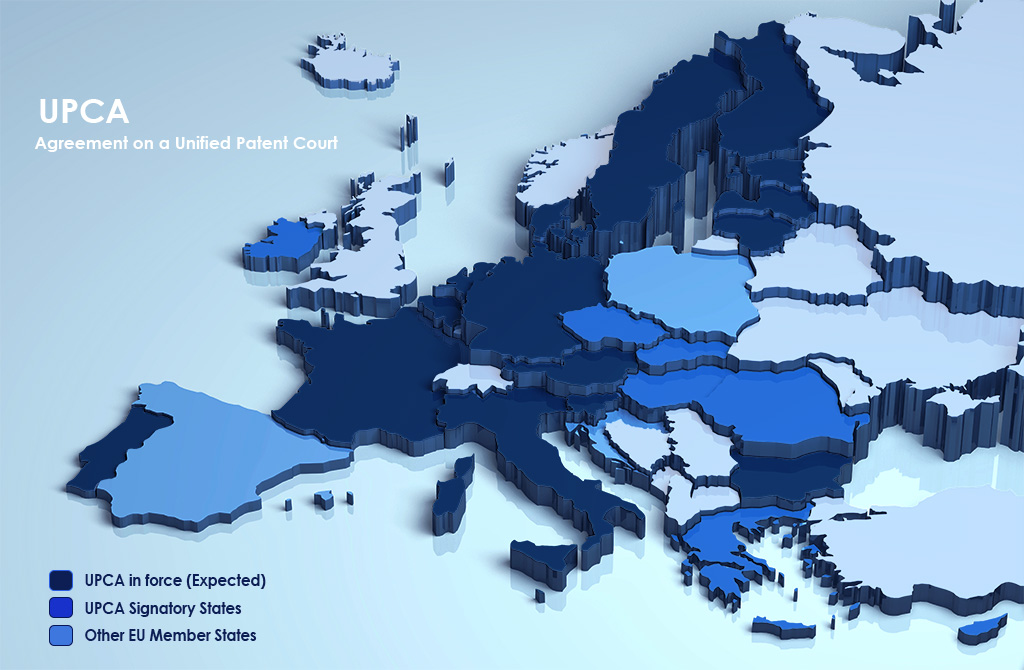 Unitary Patents vs. Classic European Patents: Which Should Your Company Pursue?
For more than a decade, European nations have been debating and preparing for a new system of patent protection among member states to the European Patent Convention (EPC). Starting January 1 of next year, patent applicants at the EPO will be able to file early requests for patents with unitary effect, a new kind of patent right that offers unitary effect across 17 member nations that have already ratified the Agreements related to the Unitary Patent system, and another 8 nations that are included in the so-called enhanced cooperation to bring about the Unitary Patent system. On April 1, 2023, the Unitary Patent Court (UPC) is expected to begin full operations as the court with jurisdiction over both Unitary Patents and classic European patents.
In many ways, Unitary Patents offer significant advantages over classic European patents. Most significantly, while classic European patents must be validated on a country-by-country basis, Unitary Patents take effect in up to 25 countries (currently 17) of the EU through the filing of a single patent application with the EPO. For many companies, this represents a great amount of cost savings by avoiding costly translation services and expensive local firms, both of which are required when pursuing patent rights in many members to the EPC through a classic European patent.
However, the new Unitary Patent system may not be the best choice for every company seeking to protect their innovations in multiple European markets. Although the UPC will be established to handle matters of infringement across Unitary Patent member countries, that court will also have jurisdiction on matters of validity. A single Unitary Patent might offer protection in multiple EU countries, but a single UPC ruling that invalidates a Unitary Patent right extinguishes those protections in all of those countries at once.
While classic European patents may be costlier than Unitary Patents in some respects, those can only be invalidated through legal proceedings filed in individual countries. This leaves EP patent rights in force in other EPC countries where invalidation proceedings have not been initiated, making it much more expensive for a competitor to steal market shares by knocking out patent rights. As well, rules regarding the maintenance and enforcement of Unitary Patents reduce a patent owner's ability to develop a flexible strategy for patent rights. For instance, Unitary Patent owners will not be able to drop patent protections in less relevant markets to reduce their maintenance fee payments. Enforcement rules also require that the Unitary Patent be treated as a single right across all member states to the Unitary Patent, preventing firms from entering into many regional licensing agreements.
Another practical concern that foreign patent holders looking to enter the European market may want to consider is the relative youth of the court that will be ruling on infringement and validity for Unitary Patents. Courts in countries like France and Germany are well versed in patent legal issues, but the experienced judges sitting at the UPC will be applying new rules that have only been developed recently. This introduces a level of uncertainty that some companies should be aware of when planning to obtain patents in Europe.
With these considerations in mind, there are certain types of patent owners who will likely benefit more from Unitary Patents. Small- and medium-sized enterprises (SMEs) may find that Unitary Patents work best for their IP portfolio building strategies. Many SMEs obtain patent rights in order to attract backing from venture capital and while they expect those rights to have legal force, often they're not being actively litigated and thus at greater risk of facing validity challenges. These entities are often working with limited budgetary resources as well. Money spent on local attorneys for validating EP rights in individual countries is money that cannot be spent on scaling up business activities and hiring more employees.

Conversely, large multinational corporations may find it easier to cover the added costs of validating classic European patents country by country. As an IP strategy, it may be more beneficial for these larger corporations to make it more difficult for others to earn significant market share. This is especially true for the pharmaceutical industry and other companies selling products generating billions in sales that are only protected by a low number of patents. With classic European patents, larger conglomerates can bring legal action against infringing companies without creating the risk that patent rights might be extinguished across the member states to the EPC.

At SHIP Global IP throughout our clientele, we observe a trend of skepticism over the Unitary Patent system manifested in requests to opt out of the exclusive jurisdiction of the UPC over classic European patents. We offer single and bulk opt-out services for patent owners preferring the classic jurisdictional route. Note that the three-months sunrise period during which opt-out requests shall be filed commences with Germany depositing its ratification instrument for the Agreement on a Unified Patent Court (UPCA), expected for end of 2022 or shortly after.
Companies from the United States, Asia and elsewhere seeking to enter the European market still have good options for cutting costs from their EP filing activities. SHIP Global IP offers patent translation services that leverage language processing technologies for high-precision translations of patent assets into national languages. Our technological platform ensures a high level of consistency across all assets within a patent family, from parent patents to divisional applications.

Inconsistencies in patent translations can make it hard for any court to understand the underlying subject matter, and it only takes one mistake for a costly legal issue to arise. Many providers cannot offer a dedicated professional staff of translators capable of preparing patent applications for each country in which the client wants validated patent rights. Here at SHIP Global IP, our translation team can produce translations in more than 200 language combinations ready for validating a European Patent in all EPC member states as well as for international filing activities. SHIP Global IP's translators also meet several international standards for translation services and project management, making our company a leader in an industry where mistakes and inconsistencies cannot be tolerated.
Before bringing your innovative product to the European market, take time to strongly consider whether your company will benefit more from the low cost of obtaining Unitary Patents, or from the flexibility and durability of classic European patents. Contact SHIP Global IP if you're having any issues assessing which patent option is best for your firm. We will eliminate the headache of working with several law firms to enter different national markets, and the inconsistencies that result from the use of freelance translation services.