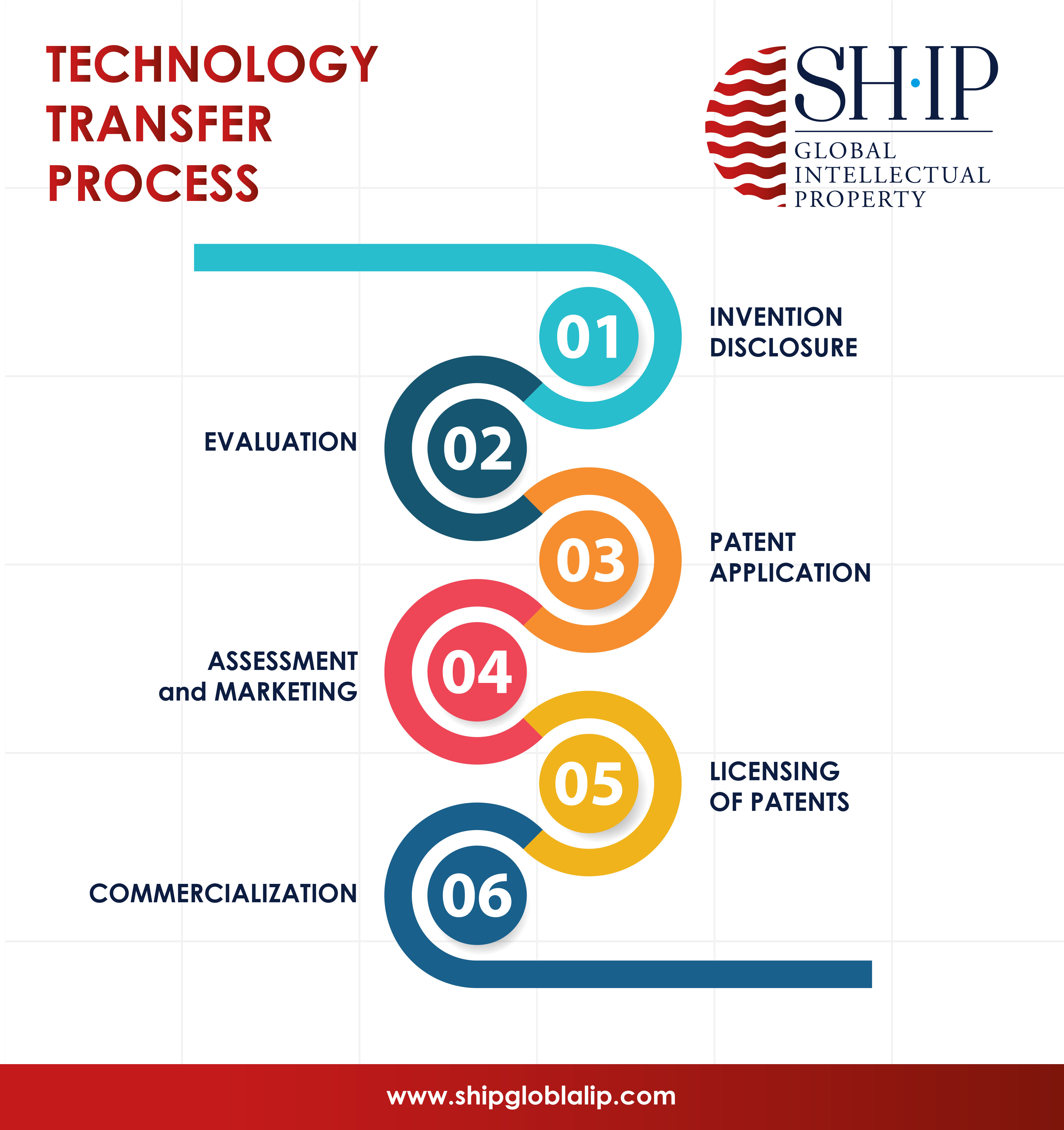 Tech Transfer of Intellectual Property
Simply put, IP Tech Transfer is a process of turning a research result into a technology offering (technology, product, know-how) that can be exploited by a company or any other type of player in socio-economic markets. This offer is valued in the form of a (1) license agreement or an (2) assignment.


In the pharmaceutical industry for example, technology transfer (TT) is both essential and important to drug discovery and development for new medicinal products. It is also required to upgrade drug quality planned during research development and to the final product during manufacturing as well as to guarantee that stable quality is transferred.
Tech transfer usually falls under the following categories:
Mechanical
Electronic
Industrial and manufacturing
Medical
Communications
Exclusive or non-exclusive
Including federal laboratories, the US invests more than $100 billion each year in federal research funding, with a cumulative spending of more than a trillion dollars over the last 15 years.
License agreements can be in the form of fee, royalty or profit-sharing basis, thus offering the right to produce or manufacture the product for an agreed upon period within a territory. Firms manufacturing low-tech products engage in licensing as compared to other channels. Stronger IPR (IP Rights) protection can reduce licensing cost and provides greater market power to the licensor. It also discourages innovation in the marketplace.
Assignment of intellectual property refers to the process by which ownership of a product, created for a company by an employee or consultant, is transferred to the entity. Unlike licence agreements, which grant permission to use intellectual property under certain conditions, generally, assignment are transfers of property rights, with no conditions under which the rights will be used.
Challenges universities may face:
Complex and interactive process.
Different actors with many interactions (ex.: industry-university partnerships) and different cultural norms; Innovation and regulatory environments; Government policies.
Contractual forms and arrangements based on different objectives, values and motivations.
The nature of technological research is complex and abstract: the knowledge to be transferred can be tacit and difficult to identify.
Constant (re)direction of efforts and (re)prioritization of projects related to tech transfer.
SOLUTION:
Set up of clear IP protection and licensing strategies.
IP portfolio management must be part of the tech transfer strategy.
Strategic use of IP and patent related technological information to support decision making (what and how to develop; how to protect and license).
In the US, the top 20 individual universities with the most gross licensing revenue compared with the number of executed licenses from 2008–2018 according to STATT data: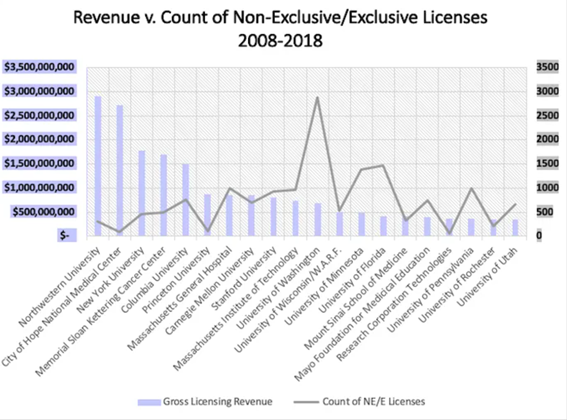 If you would like to learn more about the fascinating world of tech transfer, please get in touch info@shipglobalip.com.
Also, we will be hosting a webinar on the subject on the 11th of February, 2021. Follow the link below to register for the webinar and learn from some of the leading experts in the industry.


"How can Pharmaceutical companies and Universities benefit from the new Brazilian IP system?
Join us as we get expert opinions and insights from some of the leading experts in the field. "

Register here.