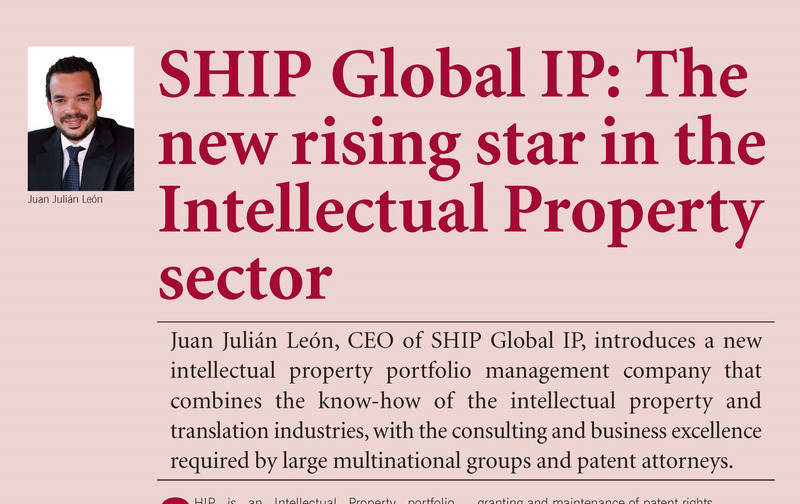 SHIP at the Patente Lawyer Magazine
"SHIP Global IP: The new rising star in the intelectual property sector"

SHIP is an Intellectual Property portfolio management company and one of the world's leading patent management service providers. It combines the know-how of the intellectual property and translation industries, with the consulting and business excellence required by large multinational groups and patent attorneys. That is why SHIP has first-hand experience of the costly and drawn-out tasks involved in entering the PCT national phase, validating European patents and guaranteeing high-quality patent translations.

Its patent attorneys have been rigorously evaluated and selected on the basis of their technical areas/specialized fields, so each client can choose their own agent or use the services of our preferred agent.

SHIP offers IP owners simple, convenient and economical tools with fixed rates throughout the entire process, from the submission of instructions to the management and cost-control of your patent and trademark portfolio (EP validation, PCT national phase entry and direct patent). This includes monitoring and following up on the filing process, the assignment of rights, registration as the patent attorney-of-record, and so forth, for the duration of the patent.

Also included are administrative services related to application, prosecution, resolution of objections, and granting and maintenance of patent rights.

Patentees can therefore concentrate on their more strategically important core business. By focusing their synergies, they develop a sustainable advantage over their competitors. SHIP offers a comprehensive patent administration service. Through process optimization, the most robust security, and clearly set rates, we achieve greater transparency and reliability.

Patent attorneys can also take advantage of this new tool by using it the same way clients do when they need to validate a European Patent or enter into National Phase of PCT using our agent network.

Furthermore, SHIP has created online management software that enables its clients to monitor and manage their IP assets. SHIP HELM™ is a feature-complete platform that enables clients to get instant quotes, control the patent filing process and reduce administrative burden.

SHIP had the opportunity of being introduced to the market at the INTA Annual Meeting in Orlando, where our Booth received thousands of visits from associates, clients and other stakeholders from all over the world.