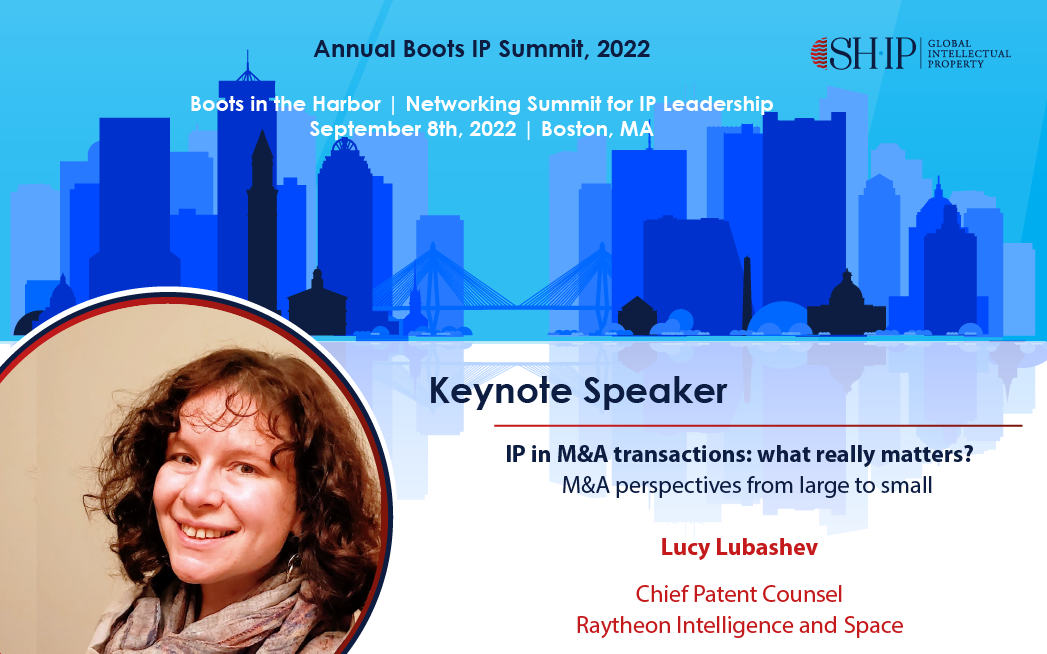 Second Keynote Speaker at Boots in the Harbor IP Summit announced!
SHIP Global IP is pleased to announce that noted IP expert, Lucy Lubashev, Chief Patent Counsel at Raytheon Intelligence & Space, will be speaking at Boots in the Harbor IP Summit.


Lucy Lubashev is a Chief Patent Counsel at business unit of Raytheon Technologies Company, a premier government contractor and a pioneer in many high tech areas.


As part of her work, Lucy manages Raytheon Intelligence & Space BU's patent portfolio, chairs Invention Review Committee meetings, provides guidance and training on IP-related matters, manages IP-related litigations and oversees IP issues in M&A deals (both on the acquisition and divestiture sides). Lucy has participated in numerous Mergers and Acquisitions projects, and has extensive experience evaluating target companies for potential acquisitions.


Prior to joining Raytheon, Lucy was the first in-house Patent Counsel at Mathworks, the maker of Matlab and Simulink.


Lucy received her BS and MEng from MIT in Computer Science and Electrical Engineering. She has a JD from Suffolk University Law School. She is admitted to MA Bar and is licensed with the USPTO.


Boots in the Harbor IP Summit organized by SHIP Global IP and will be held in Boston, MA on September 8th, 2022. Boots in the Harbor is a marquee event in IP collaboration, trends and strategy, as indicated by the speakers presenting as well as the attendees. This event is attended by In House Counsel only and has a strict no sell policy. For more info on the conference, please send an email to rsvp@shipglobalip.com.