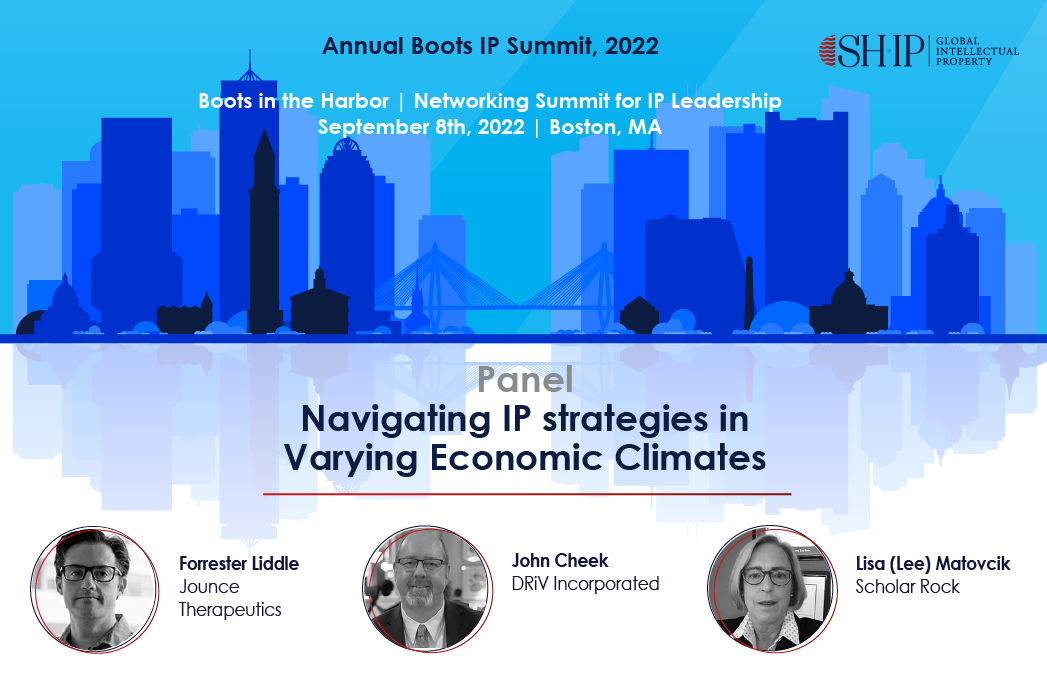 Panel announced for "Navigating IP strategies in Varying Economic Climates"!
And last but not least, as organizers of the Boots IP Summits, we are really excited to present the panel for the discussion on "Navigating IP Strategies in Varying Economic Climates." Panelists are Forrester Liddle, Vice-president, IP at Jounce Therapeutics, John Cheek, Chief IP Counsel at Tenneco Inc. and Lisa (Lee) Matovick, Patent Attorney and IP Advisor at Scholar Rock.

­
Panelists:


Forrester Liddle | Vice President – Intellectual Property, Jounce Therapeutics
Forrester Liddle is Vice President of Intellectual Property and Contracts at Jounce Therapeutics, a clinical stage immuno-oncology biotechnology company located in Cambridge, MA. Previously, Forrester was a Patent Attorney at the Novartis Institutes for BioMedical Research. At both in-house positions, Forrester has worked on developing sophisticated patent portfolios related to antibody and cell therapies; and has participated in numerous asset transactions involving the same. Prior to going in-house, Forrester was at the law firm Clark and Elbing, LLP, for nine years, where he performed patent prosecution and IP due diligence work for various venture capital and pharmaceutical firms.
In addition to his law degree, Forrester has a Ph.D. in Cell Biology.


John Cheek | Chief Intellectual Property Counsel at Tenneco Inc.
John Cheek is Chief Intellectual Property Counsel for Tenneco Inc. (NYSE: TEN), a Fortune 200 designer, manufacturer, and marketer of automotive products for original equipment and aftermarket customers. Prior to joining Tenneco in 2017, Mr. Cheek was a senior IP leader at Caterpillar Inc. for nearly 20 years, where he served in IP leadership roles in the United States and Europe. Mr. Cheek received an undergraduate degree in Mathematics from Wabash College and completed additional undergraduate studies in Physics and Mechanical Engineering. He received a J.D. from the University of Dayton and an MBA from the University of Chicago's Booth School of Business and is lecturer on intellectual property strategy and management at the Kellogg School of Management at Northwestern University. He currently serves as Vice President of the Association of Corporate Patent Counsel (ACPC), on the Board of Directors and the Executive Committee of the Intellectual Property Owners Association (IPO), and on the Board of Directors of the IPO Education Foundation.


Lisa (Lee) Matovcik | Vice President and Senior IP Counsel at Scholar Rock
Lisa M. Matovcik, Ph.D., J.D., is an intellectual patent attorney and a scientist who has provided strategic business counsel to biotech and pharmaceutical companies. She has blended an early career in medical research and teaching with a legal career, resulting in the ability to build scientific and business relationships that support the development of comprehensive global patent strategies.
She is currently VP, Intellectual Property at Scholar Rock and previously worked for GlaxoSmithKline Vaccines and Novartis Pharma. Earlier, she was an attorney with Finnegan Henderson Farabow Garrett & Dunner LLP. Prior to her legal work, Dr. Matovcik was an Associate Professor at Yale University School of Medicine where she led a research laboratory investigating mechanisms of parathyroid hormone secretion, including cell signaling, intracellular trafficking, signal transduction, and second messenger pathways, as well as teaching histology to medical and PhD students.
Dr. Matovcik graduated from Oberlin College with an A.B. in Psychobiology and Physical Education. She received an M.A. in Exercise Physiology from the University of Pittsburgh, a Ph.D. in Physiology from Stanford University Medical School and a J.D. from Georgetown University Law Center.



Boots in the Harbor IP Summit organized by SHIP Global IP and will be held in Boston, MA on September 8th, 2022. Boots in the Harbor is a marquee event in IP collaboration, trends and strategy, as indicated by the speakers presenting as well as the attendees. This event is attended by In House Counsel only and has a strict no sell policy.