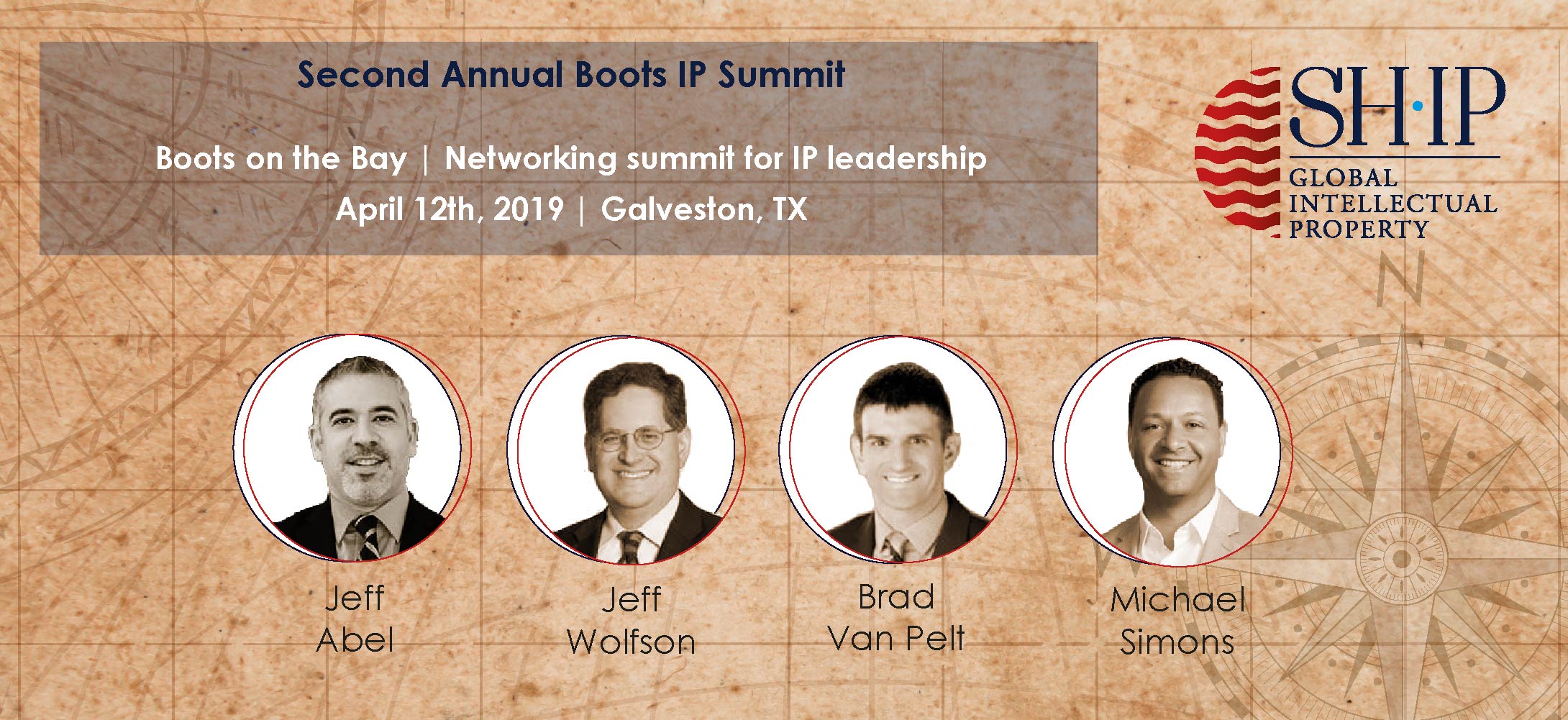 Outside Counsel Panelist at Boots Annual IP Summit announced!
And, we are delighted to announce the 4 panelists that will discuss at the Outside Counsel Panel organized within the 2nd Annual Boots IP Summit, to be held in Galveston, TX, on April 12th.

Under the title "Fishing for Effective Outside Counsel", Managing Partner at Abel IP Jeff Abel, Partner and Chair – Patent Prosecution Practice Group at HaynesBoone Jeff Wolfson, Primary Shareholder at Banner Witcoff Brad Van Pelt, and Partner, Intellectual Property at Vinson & Elkins Michael Simons, will drive an enriched debate around the topic.

We are looking forward to learn more from this great group of experts!
Jeff Abel | Managing Partner, Abel IP
Jeff Abel focuses on a wide range of client services, with a particular emphasis on complex, business driven IP-related initiatives. Jeff has 20 years of intellectual property legal experience as a DC-based patent practitioner, in-house counsel of several US Fortune 200 companies, and several principal positions in private practice. Jeff began his career practicing patent law in Washington, DC; the combination of access to sophisticated mentors, large patent-savvy corporate clients such as NGK Insulators and Matsushita, and proximity to the USPTO, focused Jeff on providing exceptional work product in a pragmatic, cost effective manner. Jeff issued over 300 US patents and had a successful track record before the USPTO Board of Patent Appeals and Interferences during his practice in the DC area.
Jeff Wolfson | Partner | Chair – Patent Prosecution Practice Group, HaynesBoone
Jeffrey Wolfson, chair of the Patent Prosecution Practice Group, helps clients from Fortune 500 enterprises to start-ups manage their intellectual property and related legal risk, both in obtaining and managing portfolios of U.S. and foreign patent and other IP rights, including patent prosecution and IP-related commercial agreements, and in counseling clients regarding their key product and service launches and related design-around opportunities. Jeff has assisted clients across various industries on technologies such as generic pharmaceuticals, drug delivery devices and materials, petroleum automation technology, behavioral and predictive communication routing and analytics, automotive polymers, food products and processing, leisure and sporting goods, and more. Jeff, a registered patent lawyer with a chemical engineering education, provides representation at the USPTO; has obtained numerous U.S. and foreign patents; prepared hundreds of invalidity, non-infringement, patentability, freedom-to-operate, and other product clearance opinions; and has conducted numerous IP diligence evaluations in connection with mergers, acquisitions, and secured financial transactions. In one of Jeff's pre-law jobs, he caught spot fish to be used as bait at a rate of $0.05 per spot.
Brad Van Pelt |Primary Shareholder, Banner Witcoff Ltd.
Brad concentrates his practice on prosecution, counseling, and litigation in all areas of intellectual property. Brad has wide-ranging experience in prosecution and counseling. He has years of patent drafting experience in the mechanical, software, and business method arts. He frequently prepares freedom-to-practice opinions, and has served on successful IPR and patent litigation teams in obtaining favorable rulings for clients. Prior to his role at Banner & Witcoff, Brad was a patent examiner at the U.S. Patent and Trademark Office in the early 2000s. While at the Patent and Trademark Office, Brad examined patent applications directed to the mechanical arts, especially in the automotive, transportation, and power generation arts. Brad was awarded his J.D. degree from Georgetown University in 2007 and his undergraduate degree in Mechanical Engineering from the University of Wisconsin-Madison in 2002.
Michael Simons | Partner, Intellectual Property, Vinson & Elkins
Michael Simons is an experienced first-chair trial lawyer who has tried numerous complex cases to jury verdict. Michael focuses his practice on patent infringement litigation, but he has also handled other complex cases including trade secret, trademark, and trade dress cases. His cases focus on computer software and hardware, smartphones, vacation rentals and home-sharing, financial services, and medical devices.
Boots on the Bay is the 2nd Annual Boots IP Summit organized by SHIP Global IP and will be held in Galveston, Texas on April 12th, 2019. Boots on the Bay is a marquee event in IP collaboration, trends and strategy, as indicated by the speakers presenting as well as the attendees. This event is attended by In House Counsel only and has a strict no sell policy. For more info on the conference, please send an email to rsvp@shipglobalip.com.
__________________