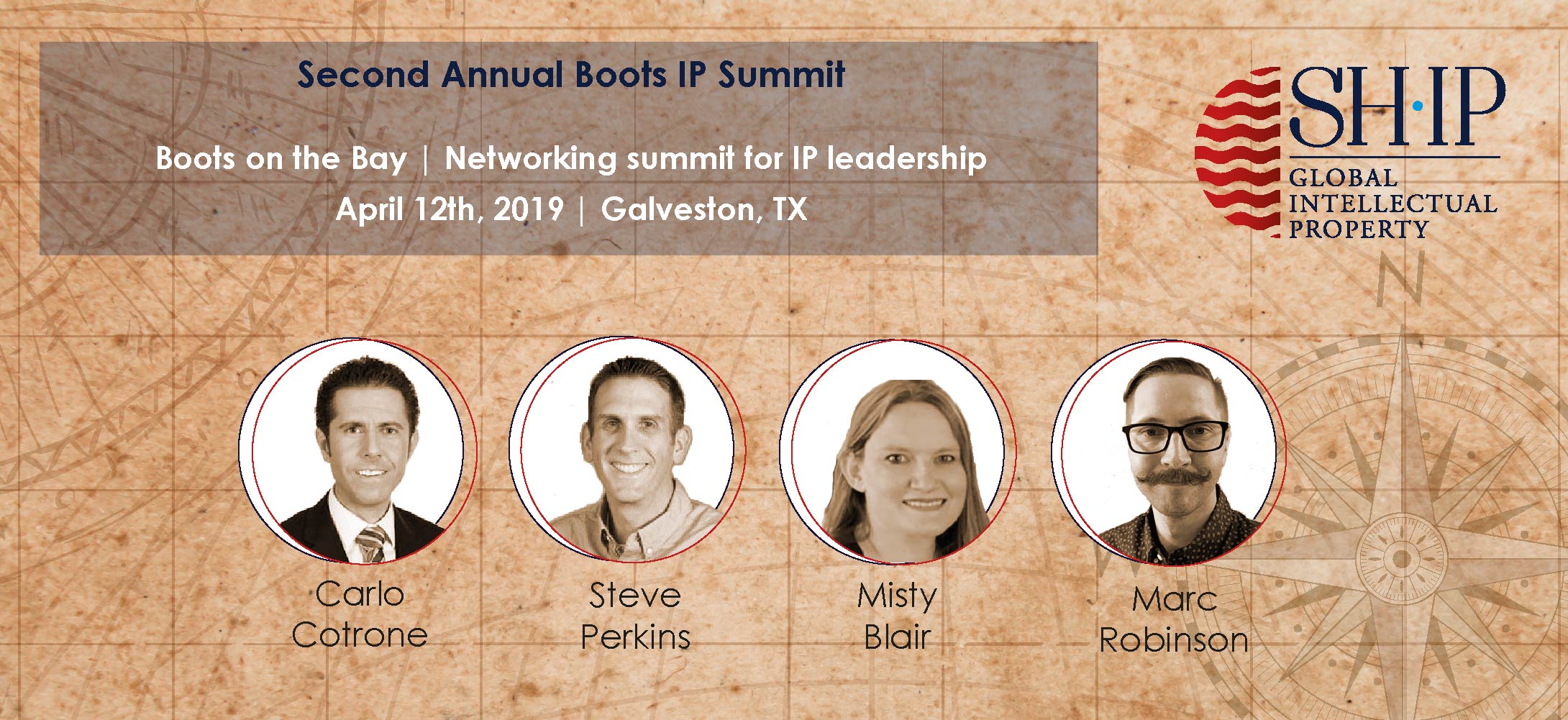 IP Leadership Panelist at Boots on the Bay IP Summit announced!
We are thrilled to announce the 4 panelists who will join the first out of two panels organized within the 2nd Annual Boots IP Summit, to be held in Galveston, TX, on April 12th.

The IP Leadership Panel, titled "Avoiding Unforeseen Consequences of Portfolio Strategy", will be enriched by the vast experience of Senior IP Counsel at Baker Hughes Carlo Cotrone, Associate General Counsel IP at Medtronic Steve Perkins, IP Counsel and Head of the IP Legal Department at Kaneka Misty Blair, and Senior IP Counsel and Lead Patent Counsel at Sunpower Corporation Marc Robinson.

We are certain it will be an engaging panel discussion!

Carlo Cotrone | Senior IP Counsel, Baker Hughes
Carlo Cotrone is Senior IP Counsel at Baker Hughes, a GE company ("BHGE"). As lead IP counsel for three BHGE business units, he manages the development and execution of offensive and defensive IP strategies, provides IP and general corporate advice, and negotiates agreements with licensees, customers, and suppliers. He also is Adjunct Professor of Law at University of Houston Law Center, and a frequent conference speaker and blog contributor on topics such as IP strategy and asset management, legal ethics, collaboration and innovation strategies for law firms and corporate legal departments, and professional development. Carlo is the inventor of two United States patents directed to digital sheet music technology. Previously, he practiced law at several firms on the East Coast and in the Midwest, most recently as a partner.
Steve Perkins | Associate General Counsel IP, Medtronic
Steve is Associate General Counsel IP for Medtronic's Minimally Invasive Therapies Group. Steve obtained his JD at the University of Houston Law Center, and worked at Sidley Austin in Dallas and Greenberg Traurig in Denver before moving in-house at Medtronic (fka Covidien). His specialty areas include intellectual property litigation and litigation management, IP due diligence aspects of mergers and acquisitions, patent prosecution and client counseling.
Misty Blair | IP Counsel and Head of the IP Legal Department, Kaneka
Ms. Blair serves as IP Counsel and head of the IP Legal Department for Kaneka Americas Holding, Inc., a subsidiary of Japanese parent company Kaneka Corporation. She manages all IP aspects of Kaneka's manufacturing and R&D operations in the Americas, including in the areas of functional plastics, electrical materials, aerospace, life science products, and medical devices. She works closely with IP staff in Japan and elsewhere to maximize the global protection of Kaneka's IP portfolios.
Marc Robinson | Senior IP Counsel and Lead Patent Counsel, SunPower Corporation
Marc is Director, IP and Products for SunPower Corporation, managing global intellectual property issues and providing related strategic guidance for SunPower. Marc's practice focuses on patents, technology, trademarks, marketing and related transactions. Marc holds a BS in Engineering Physics from Queen's University and a JD from the University at Buffalo School of Law.
Marc began his legal career as a patent clerk in 2006 and left law firm practice in 2014 to work with then-client Broadcom Corporation, where he focused on cost-reduction, monetization and patent quality efforts. Marc has been with SunPower since 2016 and is based in Austin, TX.
Boots on the Bay is the 2nd Annual Boots IP Summit organized by SHIP Global IP and will be held in Galveston, Texas on April 12th, 2019. Boots on the Bay is a marquee event in IP collaboration, trends and strategy, as indicated by the speakers presenting as well as the attendees. This event is attended by In House Counsel only and has a strict no sell policy. For more info on the conference, please send an email to rsvp@shipglobalip.com.
___________